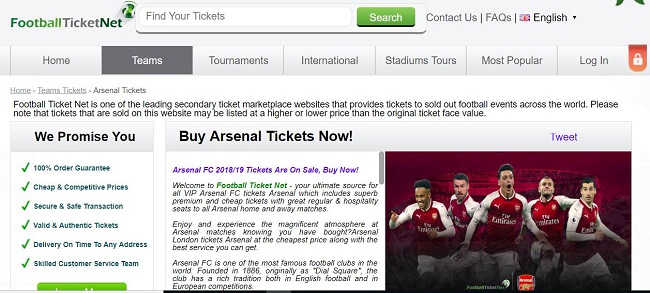 This is a review of the FootballTicketNet website. 
This website has been around for the past several years ranking high on Google Organic and Paid Advertisements. We have no real feedback on this website and are still looking for fans with order history to let us know the experiences you have had with this company. As soon as we received solid fan and customer experiences we will be sure to update this dedicated review.  If you have experience or would like to contribute to this review then Contact Us directly here.
Ticket Delivery – We currently have no real feedback from fans as to whether they have received the tickets they have purchased. We are waiting on feedback and reports and will be sure to update this section.
Website Security – The website uses the latest HTTPS and SSL technology to ensure that any creditcards information is safe when using the website.
Ticket Guarantees – FootballTicketNet states to offer a 100% Order Guarantee.
Location- Office location is in Madrid, Spain.
Prices: Highly Competitive
Can we recommend them?
Before purchasing tickets from FootballTicketNet.com we would definitely advise you to check out more established websites and agencies which offer the same tickets.
Who Do We Trust and Recommend for Football Tickets?
Safe Ticket Compare is a dedicated comparison website for all sports tickets, including football. With this we give you the trusted options at the lowest prices to ensure you get the tickets you want to purchase. Using our search form above, find the event you want to get tickets for and use our comparison tool to get the best price.
Remember, all tickets listed on Safe Ticket Compare  come from trusted sources and are guaranteed. We have helped thousands of fans in the past get tickets and will continue to do so. Visit our Football page here.