TicketCompareHQ.com is the new big website to hit the secondary ticket market and will be no doubt a hit with fans. The ability to compare football tickets will ensure that visitors return and use the ticket comparing service and tools. With new ticket websites appearing all the time it is important to check prices on different websites, the differences can be incredible.  For example a Liverpool v Manchester United can cost anywhere in the region of £400. However by using the compare tool at TicketCompareHQ.com ticket prices dropped to lower than £350. This savings of £50 was just on one ticket so imagine an order for a group of tickets.
The website is well-designed and importantly it is safe and secure for orders. With the biggest selling tickets online being Liverpool and Manchester United, this website offers more than just a price comparison. See which seats are the best to sit in. Images of different places in the stadium and view points for nearly all Premier League stadiums.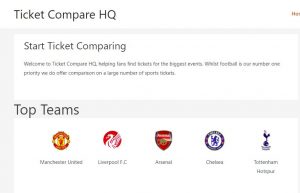 As we have seen in the previous 10 years there are many changes in the ticketing industry. With this only the best and most trusted websites stay around. If you are in any doubt then read our reviews on different websites to be fully approved.
helping fans find tickets for the biggest events. Whilst football is our number one priority we do offer comparison on a large number of sports tickets.
Order your tickets from TicketCompareHQ.com and we are certain the service will be the best online. We are always looking for feedback and reviews for different websites. If you would like to contact us about this ticket compare website then please feel free to do so here. Customer service is an extremely important aspect of the secondary ticket market and with this TicketCompareHQ states that it aims to provide excellent service to it's users. The aim is to be the biggest ticket search engine online for football and sports.