Yourticketmarket.com is a relatively new Ticket Website to the UK market and is advertising for all major events. The site says that it it is a Genuine Company but from some reports we have been emailed we have our doubts.
The website doesn't have a full UK Registered number and place to visit incase customers want to visit them for any reason. We first seen reports from this site thanks to the Mirror Team which is set up to investigate potentially fraudulent websites with an emphasis on Tickets.

The website is not the best but does offer a wide range of tickets to all events on the pretence that it is a market, similar to Viagogo and Seatwave. Whether we trust that they have the tickets on offer is another thing and therefore we recommend to consider whether to use these to purchase your tickets.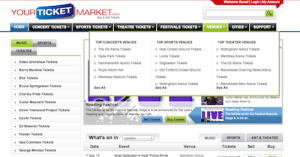 Too be 100% certain we would recommend you purchase Tickets from Trusted Suppliers like as follows. These websites have good feedback and are trusted in the industry to deliver the tickets that you want. Please send us your comments regarding YourTicketMarket.com and we will read them as with all comments and pass them on to our visitors so that you have a good idea of these sites. We have had reports that this site is just a replica of another site which has been used in the past and not delivered.