TicketYoda.com allows for users to search for tickets to football matches in the United Kingdom and Europe for all major matches.  The website has over 10,000 events and compare over 20 different ticket agents to get the best prices for football fans.
Their online agents find the best tickets prices for you and send you the link. We definitely recommend using the Ticket Yoda website, free of charge.
Get the tickets today for your event. See more at ticketyoda.com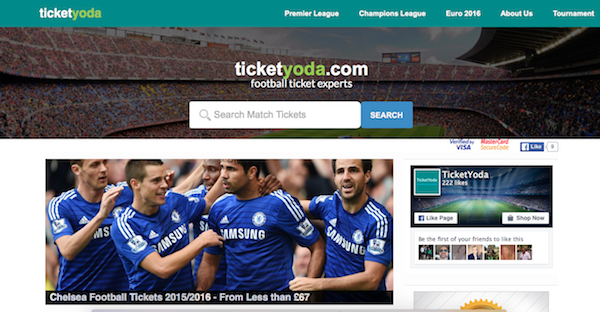 Whilst Ticket Yoda is relatively new, the owners have been in the ticket industry for many years and understand the end customer and the needs that they have. Ticket Yoda compare most tickets in the UK and Europe and is simple to use. The website is clean and fresh with a good W3C design and allows for users to search for tickets on any page or event.
The big plus to this site is that they only work with reputable companies and not ticket agents that have a bad reputation and history for no delivery.
Update: 2016
The website has been redesigned to focus purely on soccer tickets and with this brings a higher level of detail and better customer service levels. The website is now probably number 1 in the football ticket industry and keeps growing every month.
Internal Links
Euro 2016 Tickets – The biggest football event of 2016 – Make sure you are there in France for this highly competitive competition.