Also Exact Website of : myticketsonline.eu/
We are always looking for new websites and we have recently been asked about TicketMasterPro and MyTicketsOnline.eu and whether we can recommend or trust them for the delivery of tickets, especially football tickets. We are always looking at the search engines to see who is advertising tickets and also keep in touch with forums etc so that we add new business reviews to our website.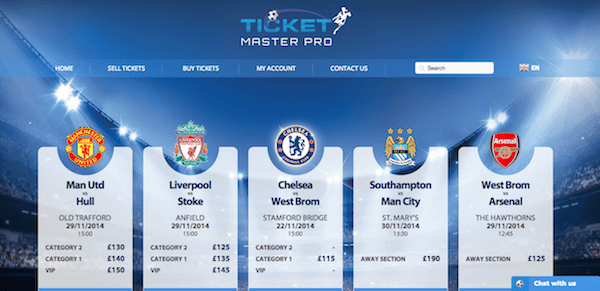 Can we recommend them?
Unfortunately we cannot recommend TicketMasterPro as we have noticed that the website is extremely similar to previous websites that we have seen.
This is a common tactic of certain online businesses and therefore we would fully advise that you don't purchase tickets from their website, TicketMasterPro.com or myticketsonline.eu. If you have already purchased tickets then please let us know your experience whether good or bad, we will then update this review. This review is constantly updated to reflect the trust in the website.
The website has come to prominence because they are investing in Google Pay Per Click and therefore are appearing in the search results when you type in Liverpool FC tickets or Chelsea FC tickets. This however has no relation to trust as any company, fraudulent or not can pay the search engines to be on the first page of search results.
NO CONTACT ADDRESS
OVERALL RATING: 0 STARS
Who we do trust?
If you are looking for tickets then we always use a handful of companies that are the best in the industry and fully stand behind our recommendation to them. We have advised people for over 3 years to use them.
If you haven't purchased football tickets just yet then use our recommended site, listed on the right-hand side.
We are always interested in hearing from you, please contact us today and we will be happy to assist where we can.