TicketBis is now currently one of the largest secondary ticket markets for football tickets in Europe. As the website is increasing in popularity the customer service is also getting better.
We have now received enough customer reviews and feedback from people that have used TicketBis to give a full review on the company. The main website online is TicketBis.net and most transactions are run from this site. There are other international sites aimed at particular countries but the basic platform is the same around the world.

The only issue with TicketBis is that they have a limited customer service other than e-mail which to be honest is not really an issue, all tickets are completely guaranteed and will arrive on time to your chosen delivery address whether that is your home or hotel in the chosen city.
Tip #1
Choose tickets on the TicketBis website that have the small plane symbol this represents that the seller has the tickets to send immediately. Tickets purchased more than 6 weeks before are unlikely to be sent out immediately, this is normal as the official club do not release the tickets until closer to the game.
Tip #2
If your address is outside of the country of the game, normally the UK then enter your hotel details so that the tickets are delivered there, ready for when you arrive.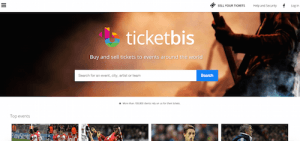 Tip #3
As with all transactions, we fully recommend using the online website to purchase goods/services rather than telephone bookings.
I am completely confident in recommending TicketBis due to its now prominent place in the football ticket market.
I have received many reviews over the past 2 years that tickets have been delivered on time and that the whole experience was a good one.

We have recommended the above site to many visitors and have never received a single complaint. If you decide to purchase tickets then we kindly ask that you click through the above link, this allows our service to remain up to date and give free advice to our many visitors.
Please do not hesitate to contact me with your review of TicketBis and your experience, this website has been set up to help football fans get the tickets they want from the safest companies.