Ticket.org are a relatively new website only being registered in the past 12 months and therefore have no real history of supplying tickets to sold out shows and football games.

The website of Ticket.Org contains many telephone numbers and is not the best designed ticket agency website that we have seen. The main address is listed in Malta but to be honest we have our doubts about this. Also whilst Ticket.org lists 5 address for tickets we cannot be sure this nothing more than post box addresses.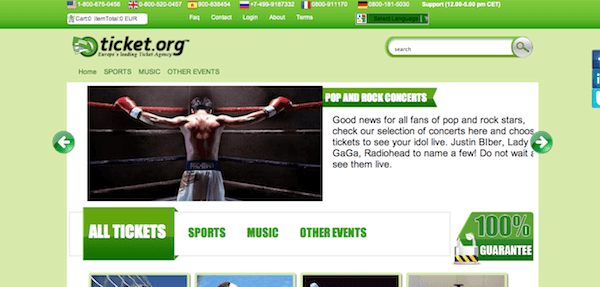 From investigations by a trusted UK newspaper the people behind Ticket.Org are in fact the same people behind EuroTeam, the company which went bust after failing to deliver thousands and thousands of tickets for the Olympic games in London.
It is believed that they are still in the process of bankruptcy and other charges relating to this scam. We recommend that you do not use Ticket.Org for the simple reason that if it is someway linked to EuroTeam then the tickets that you purchase will not be delivered and chances are you will lose your money. We accept reviews from previous customers of Ticket.Org but we haven't as yet received any.
With this being said we recommend that instead of using Ticket.Org that you think about our recommended sites that we advised people to use many times without problems. Based on our experience and reviews from other people here are the sites that you should use to guarantee your tickets.
For tickets especially football we recommend the following website, we have had zero problems with this site and therefore are advising you to use it. If you do decide to purchase tickets then please click on the following link, this allows TicketReview.net to keep running and allow unbiased reviews for others.


This review is taken from a variety of sources including an article published by a UK newspaper and also other reviews gathered online. We have no reason to believe that these reviews are false and therefore will offer recommendations to other sites.