We have been requested by our readers to review and determine if we can recommend Premium TicketHub as a place to purchase European football tickets.
This website which is based in the United States and therefore not really in a position close to the market. From a quick analysis of advertisements on google we can see that this is where they predominantly advertise on.
Premium TicketHub
548 Market St # 34770
San Francisco, CA 94104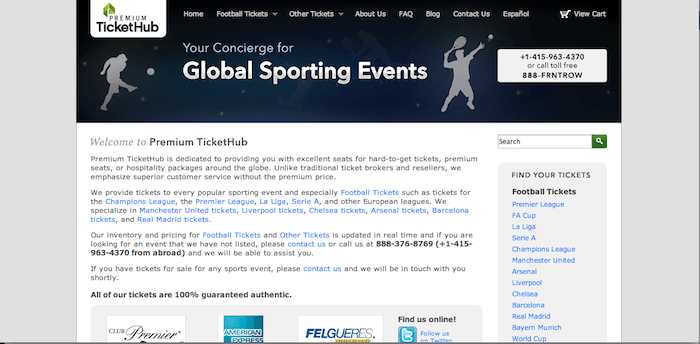 Having viewed the prices for the tickets, we feel the tickets are way above market value and therefore customers will be paying more than they should do from a broker. Having viewed the prices between 1 game on Premium TicketHub and our recommended website which is below there is a difference of nearly $200 per ticket. This difference is large enough for us to point out.
From a quick scan of the well designed website we have no reason think that there is any problems purchasing UK and European football tickets from this company but what we would say is that the tickets are over priced and the company is on a completely different continent to where the event is taking place.
If there was any type of problem with the tickets at the stadium, would the time difference allow for any last minute changes to happen, I doubt so. With one of our recommended websites you will be getting tickets that are priced at the market value and are on hand to deal with any issues should they arise.
As with all reviews we are always open to hearing your feedback and experiences with Premium TicketHub.