Its that time of year again when I look for new ticket agents are making an appearance on the search engines. The next on the list which I have found ranking quite well is LiverpoolFootballTickets.com. This as the name suggests specialises in Liverpool football tickets but as we have discovered in the past, a high ranking website doesn't necessarily mean that the website is trustworthy and reliable.
Whilst this company does offer a contact address, this is merely a forwarding and business address so if you did decide to visit the offices in Edinburgh then you would merely find an empty office which will collect mail for them. The number give on the site is also a UK mobile number which to be honest is not a fantastic way to contact them, this number can easily be changed. Having said this, we have not received any reviews on this site and therefore ask that if you do have any previous experiences please send them to us and we will be sure to look at them.
As there are limited places where people can buy UK football tickets this means that people often rush into purchasing from the first page that offers them and then realise that they have purchased from a company with little trading history and reputation.
Advice
Use a company that has a fantastic history of delivering tickets on time.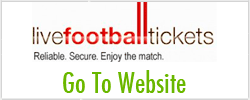 I started TicketReview.net to offer impartial advice for people purchasing tickets and after 2 years I am now able to recommend certain websites over others for the purchase of tickets.
I have given these recommendations to hundreds of visitors and have never had one complaint or customer contacting me to state that the advice I gave was bad.