CheckFootballTickets.com is a relatively new website which focuses heavy on pay per click and therefore simply pay Google to be listed at the top of the rankings.
Whilst this strategy is not bad it simply means that the website has no real history on line.
Even searching the phrase checkfootballtickets.com into Google returns zero results and this is normally as a result of the website using spam tatics to get to number one on Google.
Can I Trust CheckFootballTickets.com? (Check Football Tickets)
We have received several reports that tickets are not being delivered by this website and therefore we would advise against using this website. Scroll to the bottom to see our recommended ticket agents.
The reviews have stated that they have paid hundreds of pounds for tickets, often in the English premier league and then left disappointed when the tickets are not delivered. The customer service has 10 different numbers but do not use this as a trust factor as all numbers redirect to the same number which is often ignored.
CheckFootballTickets are paying to appear at the top of Google for searches such as Liverpool fc tickets, arsenal tickets and therefore they will be getting thousands of visitors a day.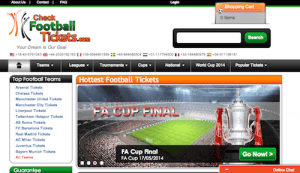 Who Do we Recommend ?
After operating TicketReview.net for 3 years now I am now in a position to be able to offer the best advice for people purchasing tickets.
I would personally recommend your purchase the tickets on the following website. I have been recommending this company for several years now and have never had any issues.